The Williamson County Libertarian Party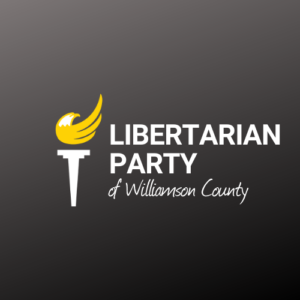 We're the official county party affiliate of the Libertarian Party of Texas, and the national Libertarian Party.  Our goal is to move public policy in a Libertarian direction by electing candidates to public office and advocating for Libertarian issues.  This means more respect for our natural rights as citizens, many of which are listed in the Texas Constitution and the US Constitution.  This means a smaller government that is focused on protecting our lives, liberty, and property without wasteful distraction.  And this also means more respect for our personal freedom and responsibility to take care of ourselves, family, friends, and neighbors without government interference.  Our current By-Laws are available here for inspection.
Monthly Meetings with Great Guest Speakers!

We would like to invite you to our social meeting and dinner on the fourth Tuesday of each month at 7PM. We have community outreach booths at festivals and markets, usually just before elections in November of every year.  For a full schedule of events, please check out our Meetup Group.  It's free.  Everyone is welcome, even if you aren't a Libertarian.  Feel free to bring friends and family.
For more information, please feel free to contact our County Leadership below.
County Leadership
 
Chair
Steven Harris
Email
Round Rock, TX
Elected March 12, 2022
Vice-Chair
Scott Talley
Email
Round Rock, TX
Elected March 12, 2022
Secretary
Bo (Edwin) Zimmerman
Email
Round Rock, TX
Elected March 12, 2022
Treasurer
Jason Kute
Email
Round Rock, TX
Elected March 12, 2022
 
District 1
Edward Carlin
Email
District 1
Matthew Hause
Email

District 2
Jon Rosenberg
Email
District 2
Open
District 3
Christopher Williams
Email
District 3
Katherine Williams
Email
District 4
David Johnson
Email
District 4
Daniel Howard
Email