Water Bill Wars Unlikely for Round Rock – and other notes from Feb. 24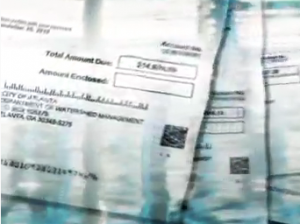 At the February 24th meeting of the Round Rock City Council, Mayor Alan McGraw was authorized to purchase 1,800 "smart" water meters from Master Meter, Inc. The city is currently spending $1.4 million per year to replace all analog meters with new computerized meters within 3 years. Eventually this system could be linked by antenna to provide real-time water usage data to the city. This would reduce or eliminate the current practice of sending employees to physically read the meters.
CNN has reported that major cities across the country including Atlanta and Cleveland have had serious problems with the new smart meters. Atlanta residents have received false water bills charging over $1,000 for a single month. Residents have had difficulty proving to the city that the billing system was the culprit, not a massive leak on their property.
I was concerned about this CNN report and I spoke with a Round Rock customer service representative about this troubling news from Atlanta. She was very knowledgeable about the matter. She informed me that no one with the new smart meters had reported any problems so far. She also said that an unusually high reading from a new meter would be checked immediately.
There are several important differences with the way Round Rock is managing its meters. First, Atlanta hired an outside contractor who did not properly install the meters. Apparently, there was a communication breakdown between the city and its contractor. Round Rock is performing all this work with city employees, and verifying correct installations as they are performed. Second, Round Rock is proceeding at a slower pace. Approximately 35 homes receive the new meters each day. Third, Round Rock is obviously a much smaller city than Atlanta or Cleveland, and hopefully any crazy water readings will be easier to resolve. It's still a good idea for Round Rock residents to be aware of the new meters, and vigilant with their water bills. (Residents in North Texas have reported lots of problems with smart electric meters, so be cautious with that bill, too.)
There was a presentation to the city council on the city's financial status. Revenue was on target with the city's budget expectations. Dell still accounts for 18% of the city's income.
Six and a half acres on East Main Street were re-zoned for the Round Rock Community Foundation. A street will also be closed to unite the parcels. They are planning to build a facility there to serve the local community.
The Mayor was authorized to spend $319,000 from Obama's federal stimulus package to renovate the heating and cooling systems in various city buildings. The contract was awarded to Thermal Mechanical Contractors, Inc.
This article was written by Robert Butler and has been reposted with permission from http://robertdbutler.org