Taking local priorities to the Legislature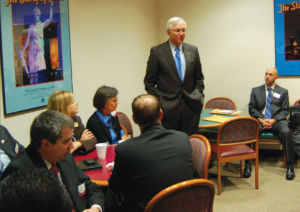 Williamson County governments take various approaches to communicating with their state government during legislative sessions, from combined efforts to protect the interests of cities and the county government to an individual city directly contacting its legislators.     
Texas Municipal League
City governments can be members of the Texas Municipal League, a nonprofit organization formed in 1913 that serves cities and provides lobbying services.     
TML provides "a system of support for all cities in Texas in relation to pushing issues that we have that are shared, maintaining local control over tax rates [and] maintaining current constitutional provisions limiting increases in appraisal values," Hutto City Manger Ed Broussard said.     
The cities of Georgetown, Hutto and Taylor are TML members. TML has 1,117 member cities, according to the organization's website.     
"They are pretty much the eyes and ears of the legislature," City of Georgetown Public Information Officer Keith Hutchinson said.     
TML provides legislative services via two full-time lobbyists, according to the service description. The organization monitors legislation in the House and Senate that would affect cities and sends notifications to city staff when issues arise.     
"They have a legislative agenda they follow and keep the membership informed with what is going on with it," City of Taylor spokeswoman Jean Johnson said.     
Williamson County Alliance
In Williamson County, local government bodies and organizations team up to increase awareness in the legislature of shared issues. The Williamson County Alliance is a combination of cities, chambers of commerce and county officials that meet quarterly.     
"The purpose was to look at things from a regional perspective and make sure everyone is talking to each other," said Marlene McMichael, a Georgetown-based consultant who coordinates the Williamson County Alliance events. "I think the main thing is that it keeps everybody informed about the key projects in each community."     
Members of the Williamson County Alliance have planned a trip to the Legislature on April 13. Dubbed Williamson County Day at the Capitol, representatives from the county will be recognized on the House and Senate floors with resolutions. Then, they will visit the state elected officials. In previous sessions, the alliance has hosted an ice cream social for lawmakers and staff and delivered Williamson County–themed gifts to the lawmakers to try to keep Williamson County on their minds.     
"We were trying to bring attention to the fact that we are just north of the [Austin] area, and we have all the growth issues that you have along the I-35 corridor," McMichael said.     
The alliance will meet in February to set an itinerary for Williamson County Day at the Capitol and create a list of county priorities. Though the list has not been finalized, McMichael said top issues are likely to include addressing the environmental study process for road construction and resisting taking on expenses when the state cuts it budget.     
Hutto Day at the Capitol
When cities have specific agendas to communicate to their legislators, they find more direct ways to do so. One method is to establish rapport with representatives and senators to directly deliver requests.     
For the 2011 session, the City of Hutto has itemized a list of priorities to take to the Capitol on its own. The city coordinated with other local organizations to offer suggestions for the common good, which is a different approach from previous years, Broussard said. Hutto officials plan to take up specific matters with legislators representing districts the city falls in. Hutto's short list of legislative priorities approved by City Council Jan. 20 hits on four main points.     
Education
The city committed to assisting a higher education campus to come to Hutto, funding of its fast-growing school district and delaying the start of new state standardized testing.     
Local control
Maintaining local control over taxes, limiting appraisal value increases, curbing state mandates, allowing locals to determine property use and letting voters decide when to increase tax rate caps in emergency services districts are ways Hutto wants to maintain local control.     
Family safety and health
Hutto City Council members support advocating for family violence prevention and enforcement and getting Texas grant funding for parks and recreation.     
Business expansion
Hutto will ask the Legislature for expanded infrastructure funds and continued local control over economic development sales tax funds.     
Hutto will also have a day at the Legislature, Hutto Day at the Capitol March 23. As with Williamson County Day at the Capitol, the plan is to have resolutions read on the House and Senate floors, visit lawmakers and host a reception.     
"Hutto Day at the Capitol is our opportunity to go and put our best foot forward for all the different representatives and senators," Broussard said.     
Suggesting legislation
The City of Taylor has taken a more direct approach to fulfill specific city needs.     
"For instance, Larry Gonzales is our state representative, who took Diana Maldonado's place," Johnson said. "There have been times when we have taken it on ourselves to visit with him directly."     
Also, during the 81st legislative session, Taylor supported a bill sponsored by Maldonado, HB 2805, relating to "the administration, powers, duties, operation, and financing of the East Williamson County Multi-Institution Teaching Center," according to the description provided by the Texas House of Representatives.     
"We did a very special lobbying effort to get that done so that we could get EWCHEC here," Johnson said. "So we went to her directly with that."     
This article is reposted from the Community Impact Newspaper By Suzanne Haberman with Additional reporting by Samantha Bryant