Round Rock ISD parents, employees offer input on budget cuts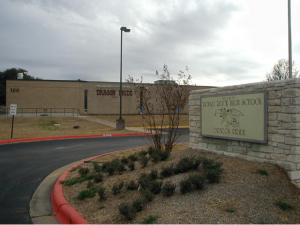 Hundreds of parents, students and school employees packed the Round Rock High School cafeteria Feb. 15 to share ways to address the district's anticipated budget shortfall for the 2011-12 school year, estimated as high as $73 million.
The event was the first in a series of public forums planned for RRISD to gather community input on the budget cutting process.
Texas lawmakers face an estimated $27 billion shortfall and $10 billion in cuts to school funding, forcing districts across the state to draft budget reduction strategies.
Cuts will be made across all departments and areas of the district, but efforts will be made to protect the classroom, Superintendent Jesús Chávez said.
"At the end of the day, I hope to pass a budget that will take less from the classroom and more from other areas," Chávez said.
Chávez said RRISD will prepare a budget cutting about $60 million of its $345 million budget. The district plans to use $20 million of its rainy day fund each year for the next two years to lessen the impact of the budget cuts.
Those attending the forum were given a list of budget cut recommendations and asked to choose which areas they would cut, which areas they would save and add their own recommendations. Participants were then divided into small groups and asked to discuss their decisions.
The current list of recommendations are a collection of suggestions by RRISD staff, parents and community members on how to trim costs, such as reducing kindergarten to a half day and increasing class sizes.
The list also outlines a number of possible staff reductions in several areas of the district, including central administration, counselors, assistant principals, physical education teachers, librarians, instructional coaches and Talented and Gifted teachers.
Laurie Wagner, a PE teacher at Caraway Elementary School, said her top concern was saving PE teacher positions in the district.
"I'm concerned that they'll get rid of PE teachers, and it will just be a bunch of aides in there," said Wagner, who currently teaches 325 children with the help of one other teacher and several aides.
Susan Lobsenz and Angela Banker, both parents of students in Round Rock ISD, said they were most concerned about cuts made to fine arts programs and increasing class sizes.
"I'm afraid that by eliminating teacher jobs and increasing class sizes, it would reduce the quality of education every child receives," Banker said.
Traci Reece, a mother of three children at Spicewood Elementary School, said while she was appreciative of the opportunity to offer input, she wondered if her comments would make a difference.
"It seems like they've made up their minds," Reece said. "I'm curious to see if they give credence to our suggestions."
Pflugerville ISD will host its community budget forum 7 p.m. March 2 at Kelly Lane Middle School.
View a list of suggested cuts for RRISD here.
Learn more about the budget cutting process in PISD here.
This article by Rebecca LaFlure  is reposted from Community Impact Newspapers